HOW MANY TYPES OF ORANGUTAN ARE THERE?
There are three species of orangutan – the Bornean orangutan, the Sumatran orangutan and the recently identified Tapanuli orangutan.
WHAT DOES ORANGUTAN MEAN?
The word orangutan is from the Malay language and means person of the forest. It's not hard to see why they are named that. Being one of the great apes their physical appearance is very human like. But more than that, you only have to look into their eyes to see the human like quality of their thoughts and emotions. In fact, orangutans share 96.4% of their DNA with humans, and are highly intelligent beings.
WHERE DO ORANGUTANS LIVE?
Orangutans live most of their lives up in the tree tops. They even sleep in the trees and will build themselves a big cosy nest each night out of branches and leaves to ensure they get a good night's rest. This is an important skill for an orangutan to master; they can weigh up to 190lb so the nest has to be pretty sturdy. It only takes a skilled orangutan a matter of minutes to construct their bed each night. Some go the extra mile and craft themselves a pillow, duvet and even a roof if it's raining!
WHAT IS A BABY ORANGUTAN CALLED?
Baby orangutans are called babies or infants, just like with humans. For the first few years of their lives, baby orangutans are completely dependent on their mother. During this time, they learn vital knowledge and skills which will be key to their survival in the jungle. One of the hardest skills to learn is how to safely navigate through the trees. Until around 5 years of age, they cling to their mother as she moves from branch to branch. Then gradually and cautiously, the baby will take its first few swings and will begin its journey to master this vital skill.
HOW LONG DO ORANGUTANS LIVE FOR?
Orangutans can live for up to 60 years but typically live to between 30 to 40 years old in the wild. They have a very slow reproduction rate which makes their populations highly vulnerable. A female will generally reach around 15 years of age before giving birth to her first baby. She'll then spend the next 6 to 8 years teaching her infant all the necessary life skills before it's able to be completely independent. Once her offspring has left home, the cycle starts again. This eight year birth interval is the longest of any land mammal and means a female will only have perhaps four or five babies during her lifetime.
WHAT DO ORANGUTANS EAT?
Orangutans live off fruits and insects. They are very intelligent beings and build up a complex knowledge of their surroundings, bookmarking each fruit tree and food source in their area. They even utilise tools for extracting insects from trees.
WHY DO ORANGUTANS HAVE LONG ARMS?
Orangutans have very long arms indeed, being able to stretch up to 2.2m from fingertip to fingertip! In fact, their arm span is one and a half times larger than their height! Since orangutans live up in the tree canopy, their arms are key in enabling them to swing from branch to branch. Orangutans are the largest tree dwelling animals, and so their arm muscles have to be very strong to allow them to easily support their own body weight when hanging from a branch.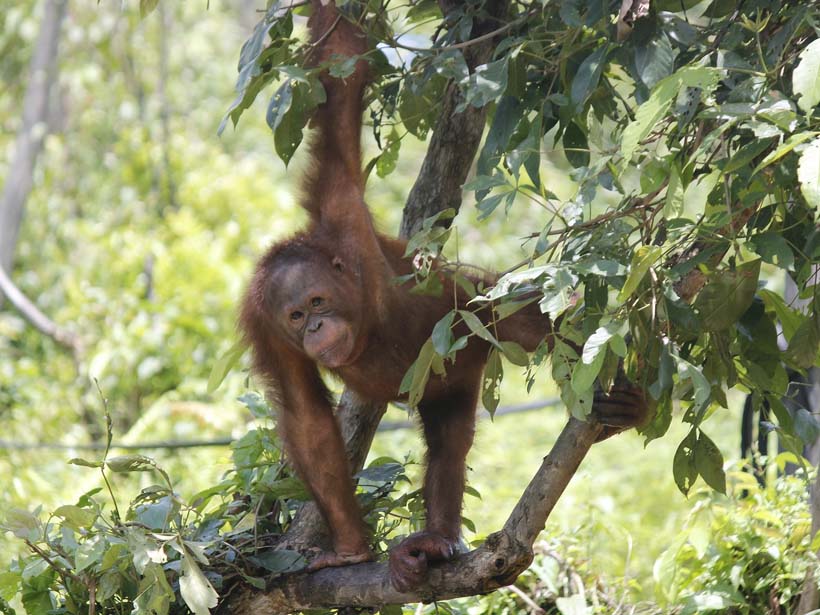 Orangutans have disproportionately long arms, ideal for swinging through trees.
ARE ORANGUTANS ENDANGERED?
Yes. All three orangutan species are critically endangered, and their numbers are still falling. Their population has declined to half of what it was 100 years ago. Orangutans are only found in the rainforests of Borneo and Sumatra, and the rapid deforestation of these areas is having a devastating impact on orangutan populations. As more and more of these rainforests are cleared to make way for new palm oil plantations, the future of the orangutan hangs in the balance.
Hunting is also playing a part in the decrease of orangutan numbers. Many orangutans are shot for meat, or are hunted in order to steal the baby orangutans from their mothers so that they can be sold to the illegal pet trade. Some adult orangutans are taken captive and exploited for tourist entertainment.
HOW CAN I HELP ORANGUTANS?
If you must buy products containing palm oil, then make sure you opt for those only containing certified sustainable palm oil. Encourage brands and supermarkets that you buy from to only stock palm products carrying the RSPO certified sustainable palm oil logo. Products which contain palm oil without sustainable certification will have contributed directly to the destruction of the rainforests and so will have displaced many species of endangered wildlife such as the orangutan. Read more about orangutan conservation efforts and how your choices can help secure the future of these amazing creatures.