HELLO!
My name is Naomi Jenkin and I specialise in highly realistic pet portraits that capture the heart and soul of your beloved pet.
Before drawing your portrait, I'll work closely with you to find out all about your pet's unique personality. I am then able to craft a portrait that not only accurately reflects your pet's physical appearance, but also captures their very essence and nature.
All my portraits are hand drawn from photographs using only the highest quality art materials.   
I particularly specialise in dog portraits, but I've also been commissioned to draw cats, horses, rabbits and even ferrets.  
I'm truly passionate about my art and the beautiful animals I am asked to draw. I am always so thrilled to be able to create a treasured portrait of your pet that will bring you joy for years to come.
I am based in the UK in the beautiful Cornish countryside. My portraits are shipped all over the world so wherever you're located, get in touch to book your own portrait.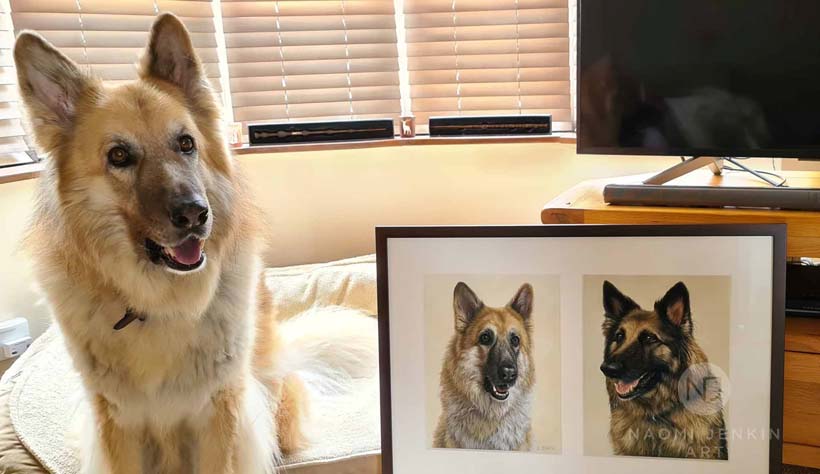 Kaiser the German Shepherd posing with his portrait
WORKING WITH ME
I pride myself on working very closely with you to ensure your pet portrait is finished to perfection. I'll stay in close contact with you throughout the process to ensure you're getting exactly the portrait you want. I pay very close attention to detail and am not happy till you're 100% satisfied with the finished result.
For more information on booking your own portrait, visit my how it works page.
ART MATERIALS
I only use the highest quality art materials to ensure your pet portrait will last as long as possible. The pastels I use have excellent lightfastness which means they don't fade easily over time. I only use professional quality acid free papers that won't yellow with age.
I work predominantly in pastels as they allow me to create wonderful textures with vibrant colours to a very high level of detail. They enable me to build up many many layers which I find invaluable in creating wondrously soft fluffy looking fur or feathers! Pastels are also fantastic in capturing the huge array of colours and light reflections in their eyes. All my animal portraits are lovingly hand drawn from your own photos.