A special wildlife art commission
My client Melanie got in touch with me to book a special piece of wildlife art for her partners birthday. She had just seen my art feature on BBC spotlight, and instantly fell in love with my drawings. She eagerly contacted me straight away to book her own wildlife art commission.
Both Melanie and her husband Steve love animals, and in particular Canadian brown bears. They'd had the amazing experience of witnessing them first hand whilst in Canada. The encounter was something special that would stay with them forever, and so Melanie knew that a painting of a brown bear would make for a truly meaningful gift for her husband.
Melanie wanted the portrait to be a complete surprise for Steve, so he had no idea about any of it until it was gifted to him!
Planning the drawing
The start of any piece of art begins with the planning stages. Melanie and I discussed her ideas and the sort of scene she had in mind. She sent me a few examples of pictures she liked, which gave me a foundation on which to develop some ideas for the portrait. I spent a lot of time going through numerous reference photos of brown bears, and eventually gathered enough material to put together a number of different composition options to present to Melanie. One particular composition of a bear hugging a big tree proved the favourite, and so we selected this as the basis for the artwork.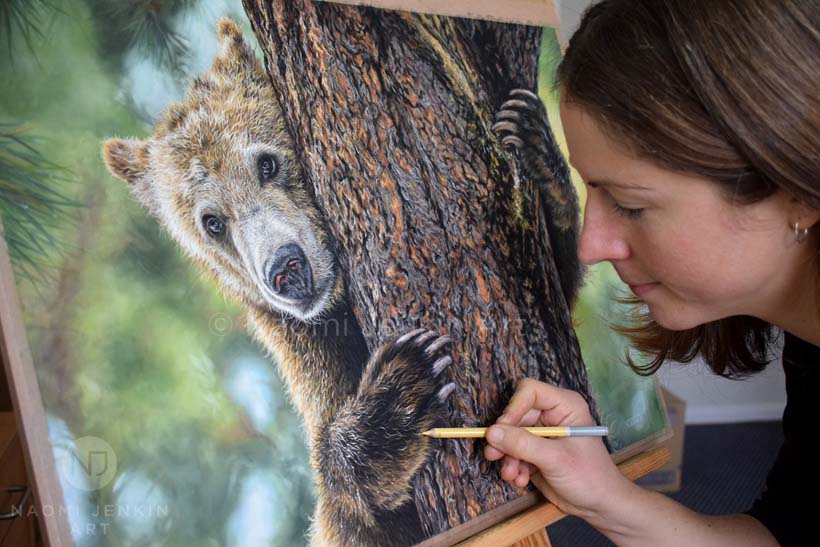 Naomi drawing 'Peekaboo'.
The drawing process
I'm often asked 'where do you start'? Well, for me, I start with the outline, then the background, and then work top left to bottom right. That's the short answer! Being right-handed, I find this works well for me as I don't end up smudging any of the details I've drawn.
I also tend to work from dark to light, meaning I block in the darkest colours first and put in the highlights last. I work in layers, starting with blocks of colour on which I build ever more refined layers of detail. I find this process works well for me when drawing with pastels. If I was working with a different medium, for example oil paints, my process would be entirely different.
This commission was drawn over a number of weeks. I used a mixture of pan pastels, pastel sticks and pastel pencils to create the artwork. Since both the bear and the tree were varying shades of brown, I was keen to add some bright colours to the piece to give it a lift, and to make it feel bright and cheery. I also wanted to give the feeling of warm sunlight light filtering through the forest. By adding the bright areas of white and cyan, mixed with some lovely warm yellows, the backdrop was given a beautiful sunlit feel.
There were some very tricky and contrasting textures to get right in this piece. The difference between the smooth out-of-focus feel of the background, the dense soft layered fur of the bear, and the gnarled rough texture of the tree bark each came with their own challenges. The tree in particular took an inordinate amount of concentration! There were so many different colours that went into creating that gnarled layered texture. I was also aware that I needed to avoid making the surface look too homogenous if it was to appear realistic, and so extra attention had to be paid to the dark grooves in the wood, and the areas where the bark had peeled off.
Conveying emotion
The most important thing for me in any wildlife art drawing is to connect the viewer to the animal on an emotional level. Usually this is through the expression in the animal's eyes, or the moment that the scene captures. This piece was no different. That soft expression in the bear's eyes as it looks right at the viewer was going to be the focus of the entire piece, and so it had to be captured in just the right way. A huge amount of time was focused around getting that expression and feeling in the face and eyes just right. Even the smallest tweaks to the eyes can have such a big difference on the emotion they convey!
Framing the finished drawing
Once the drawing was complete and I felt happy with it, I sent a photo of it to Melanie for her to check and approve. She was blown away by it, and gave me the green light to take the artwork off to be framed.
I took the drawing to my framer Dom at Studio 4 Picture Framing. We selected a lovely dark wooden moulding to compliment the rich browns in the drawing. This was accompanied by a double mount; the top mount being a light neutral colour to pick out the highlights in the artwork, and a darker inner mount which created a smart slim border around the drawing.
I had discussed with Melanie the different glass options, and she wisely opted for UltraVue® glass. This glass is anti-reflective and so gives superb clarity allowing all the tiny intricate details of the drawing to be seen clearly, almost as if the glass is not there. It was the perfect choice for a drawing of this nature with so much detail.
An unforgettable birthday gift
A few weeks later, Melanie and Steve came to collect their wildlife art from me. Steve still had no idea about the portrait. His birthday had been the day before, and so he'd been told they were going out for his birthday surprise! When Melanie and Steve saw the portrait in person, they were both amazed. They were so happy with it, and couldn't believe the level of realism and detail in the piece. Having just moved house, they couldn't wait to get it home and put it up on the wall of their new residence!
I first saw Naomi on South West TV and was absolutely blown away by her talent. I messaged Naomi the same night to start discussing a commission, a present for my partner. We exchanged many messages with lots of ideas, and finally 'Peek-a-Boo' was in production. To see Naomi's work in reality was so amazing! The present was a massive success, we collected the art from Naomi in person and it was so good to finally meet and unveil the picture. Will send a photo when he is finally in place in the new home. Thank you Naomi not just for the picture but the journey - we are thrilled.
Commission your own wildlife drawing
If you'd like to find out more about commissioning your own unique wildlife portrait, please visit my commissions page. Here you can read more about the process, and view my size options and prices.
To go ahead and book your bespoke artwork, simply get in touch with your requirements.