Have you ever seen a polar bear in the wild? It's not something many people have been lucky enough to experience. So, when I heard that a good client of mine, Yvonne Haskett, had recently done a trip to Canada to see these magnificent creatures in their natural habitat, I was eager to hear all about it!
A polar bear expedition isn't something many people do. Was it something you'd always wanted to experience?
I came across this trip while working for a Long-Haul Tour Operator back in the 1990s. I was scheduled to do a 'recce of this tour, to see first-hand how the itinerary worked, since it was run by a local company out in Churchill.
Twice my trip fell through, and soon after the second time I actually left working in travel. With my love of Canada coupled with being besotted by the animals I was very disappointed not to make the journey. After my mother passed away two years ago, I was left some money by her. As this trip was top of my bucket list, I seized upon the opportunity to, at long last, make my dream come true!
Where did you go to?
I travelled via Toronto and Winnipeg to Churchill, Manitoba. It's a remote outpost located in Canada on the western shore of the Hudson Bay, not far from the Arctic Circle.
Churchill was once a major trading post set up by the famous Hudson Bay Trading Company more than 250 years ago. It is one of the oldest locations in terms of European exploration. Many explorers of the west, together with the settlers, traders and the military who subsequently followed, will all have passed through Churchill along the way. Once the railway was built and completed in 1929, Churchill became one of the largest grain-handling ports in the world, ferrying crops from the prairies to Europe (it being closer to the continent than Montreal and the St Lawrence Seaway). Since the grain trade route declined however, the town suffered. Today it has only about a thousand inhabitants who have had to find other ways of bringing trade and renewed prosperity to the area.
As luck would have it, the town sits right on the migratory route of the mighty polar bears. As a result, Churchill today not only offers visitors polar bear watching experiences, but it also hosts the headquarters of the scientific & conservation charity, Polar Bears International. Because of all this, Churchill has earned the prestigious title - 'Polar Bear Capital of the World'!
Were you travelling with a guided tour?
My travel and tour were arranged by a company called My Canada, a subsidiary of Stewart Travel in Glasgow. I flew on my own from Heathrow, UK, to Winnipeg via Toronto, and then stayed overnight at one of the Winnipeg airport hotels.
The whole group of 20 gathered there and comprised people mostly from the US and the UK. That evening we attended a welcome meeting hosted by our Group Leader, Alex, and after introductions, he ran through the exciting itinerary for the days ahead!
The ground agent which operated the tour during our time in Churchill was Frontiers North - by coincidence the same company which operated our tours when I worked in travel, so I knew I was in safe hands!
What kind of place did you stay in?
When we got to Churchill, we had an overnight stay at one of two lodges situated in the centre of town (owned by Frontiers North). But the next day we headed out onto the tundra; the barren wasteland covered in permafrost between the town and the bay shore. This is the area where the bears gather following their hibernation, to wait for the bay to freeze. It is then that they can head out onto the ice to hunt and feast on the seals who live out there.
Frontiers North proudly boast that they have the only accommodation located actually out on the Tundra! We travelled there in the late afternoon, over the extremely bumpy terrain, in coaches specially built for the job atop huge wheels. These keep the cabs high up, beyond the reach of any inquisitive bears!
Our accommodation was called 'Tundra Buggy Lodge' and it had been created by coupling together 4 or 5 of the coaches, then beautifully furnishing them in warm and welcoming pine, creating an impressive, comfortable and cosy 'hotel on wheels'! We spent three nights there. The accommodation was much like on a train with curtained bunk beds down either side of a central corridor, and washrooms/showers at one end. It was extremely comfortable with small triple-glazed windows by each bunk so that one could look out and see if there were any 'visitors' in the night!
Considering we were about an hour from the town the food was amazing especially considering it had been prepared in cramped kitchens.
On top of one car, a spiral staircase led up to an open-top viewing area which was absolutely freezing with the biting gale blowing in off the bay and battering us as we stood there! Nevertheless, togged up in our snow gear we weren't about to miss any polar bear or Northern Lights sightings!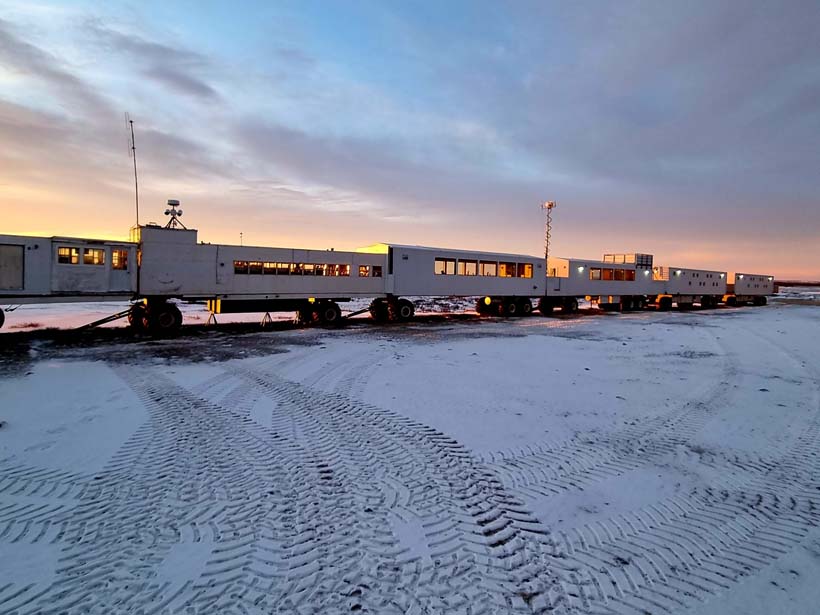 The Tundra Buggy Lodge. Photo Credit - Yvonne Haskett.
How cold was it?
Yes, it was freeeeeeeezing! Only - 8 degrees C which is nothing compared to how cold it would get when the ice and real winter set in. But with the howling gale blowing in from the bay it was more like - 30!
What sort of gear did you have to kit up in to keep warm?
We had all the snow gear and thermal underwear plus lots of layers, hats and snow boots. I was warm enough, as long as I didn't stay outside for too long! With all the wildlife activity we were constantly opening the bus windows or going in and out onto the viewing platform at the back of the vehicle, so nowhere was particularly warm! Nothing was going to stop us from getting lots of photos though!
Tell me about your polar bear encounters
Our first sighting was actually during our late afternoon journey from Churchill town to the Lodge, accompanied by the most glorious deep red sunset!. The bear was pretty far off across one of the semi-frozen inlets. I must admit I couldn't really make him out, but it only served to fire our excitement and anticipation for what lay ahead!
The next morning, we set off early and couldn't have been driving for more than 15 minutes when we came across a lovely bear dozing under a bush not far from the roadside. Our cameras went into overdrive but he wasn't bothered by us. Perhaps they're used to the vehicles, much like in Africa. We stayed there for 10 minutes or so and then moved on.
It wasn't long before we found a couple more, probably brothers, who kept sparring with each other (honing their fighting skills) and then having a rest. It was awesome to be able to watch them doing this up close!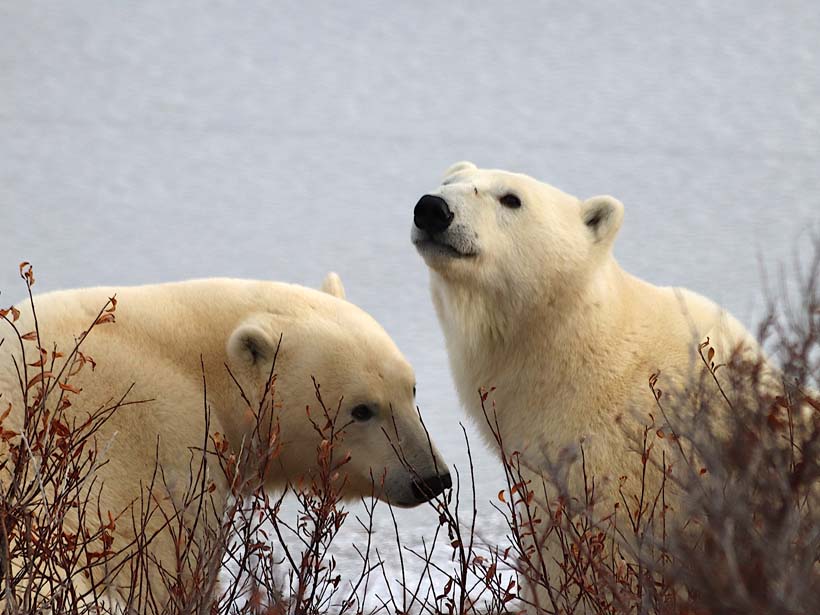 Two young polar bears. Photo Credit - Yvonne Haskett
I should say that all the bears we saw were males. They are the 'advance party' so to speak, to venture down to the water's edge and wait for the ice to form. The females would still be safely tucked up in their dens further away as they don't bring their cubs down until after the males have headed out onto the ice. This is because, being extremely hungry after their hibernation, the males would easily attack and eat a young cub given the opportunity.
I heard that only a week or 10 days after our visit, the big freeze had hit and the bay had iced over. So the males had headed off over it to hunt, and down came the females with their young! A shame, but seeing a good 10 - 15 males over the 3 days we were there certainly gave us great satisfaction.
What did it feel like to see polar bears in their natural environment?
It was so surreal really. At first it was hard to think that they weren't just in some wildlife park! But there they were, right in front of us, enjoying a free and relaxed life!
Contrary to what I had seen in some newspaper articles, they looked very healthy and not emaciated at all. But of course, that is just as things stand now. We soon learned over the time we were there, much about the plight facing the bears in the coming decades, as a result of the effects of global warming.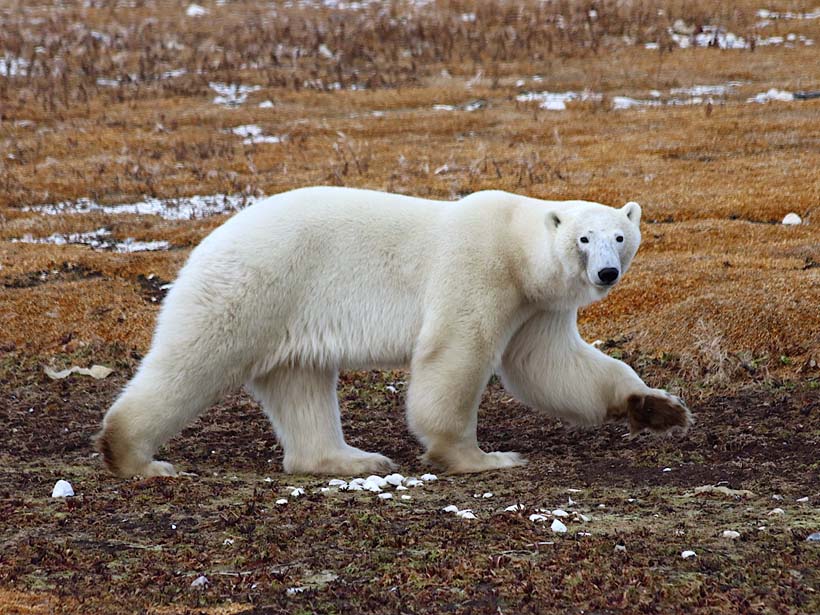 A male polar bear roaming the tundra. Photo credit: Yvonne Haskett.
What are the challenges that polar bears are currently facing?
Because of global warming, the sea ice is forming weeks later than it used to, and is melting earlier too. This means that the bears have much less time in which they can be out on the ice hunting, feasting, travelling, mating and sometimes denning too. If the situation is not slowed down or reversed, we will see thinner bears struggling to survive by 2030.
For females this will affect their ability to get pregnant or to carry their cubs full term. Bears dying younger, along with fewer cubs being born, will of course all mean a decline in the polar bear populations. It is thought that the population in the Hudson Bay area especially, may be among the first to see such a decline. Although globally there are currently around 26,000 polar bears, without taking action, we could lose all but a few of the populations by the end of the century.
Did you see any signs of climate change and how it's affecting the arctic?
We didn't really see anything significant other than the fact that the ice was only just beginning to appear on inlets and around the very edge of the bay shore, rather than extending right out into the bay as it would have in years gone by. We had to rely on the words and pleas of our Frontiers North hosts, and the scientists from Polar Bears International, to hear how bleak the outlook is. They urged us to spread the word that the world MUST slow the increase in global warming, which in turn will slow the rate of the thaw in the Arctic region.
Was there anything that surprised you on your visit?
I had seen an image published of an emaciated, dirty looking bear with the narrative saying this is what is happening to the bears. I had been so troubled by it that it really spurred me on to get out there and see for myself what is going on. But there was no sign of such starvation - yet - which at least gave me some comfort.
In fact, the locals aren't very pleased that such a picture was posted as it's giving a false impression. It was more likely to have been an elderly bear in poor condition, making its way out onto the ice to go and die.
Having said that, I could (sort of) understand why they did it, as it was shocking to see and it certainly made people sit up and take notice of the bears' plight. I was very glad to see exactly what the situation is with my own eyes, and to hear from the scientists and people who are right there working in that environment and monitoring the bears every day.
What was the polar bears' habitat like?
Before I went, I couldn't quite work out what their environment would be like, as we usually see pictures of the bears surrounded by snowy terrain. However, we saw them exploring very barren and desolate land, sometimes over an almost lunar landscape, sometimes on areas covered in kelp, sometimes more like bare heathland.
The only real break in this was when we went into the Boreal Forest to go dog sledding. This was still very barren and brown but with wind-hardened conifers breaking the skyline. In fact, the new symbol of the area is what is known as the 'Flag Tree'; battered Willow trees which have been so ravaged by the icy winds that their branches and leaves have only grown on one side, making them look like a flag!
All in all, it's such a desolate area that it's a wonder the animals can find any food at all.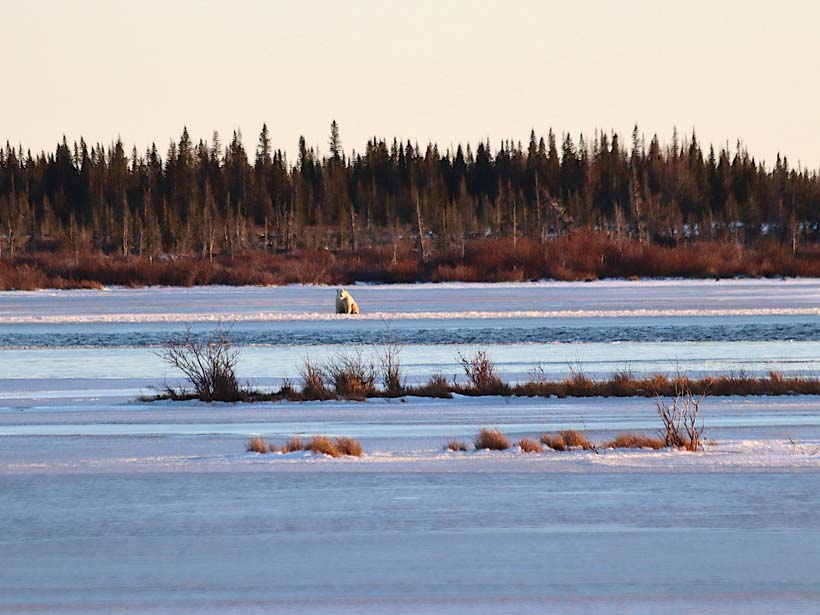 Sitting on the edge of the Boreal Forest. Photo credit: Yvonne Haskett.
What was the behaviour of the bears like? Do they experience much conflict with people?
Mostly they were just walking and rambling for miles each day in search of food. This is what sometimes brings them into the town centre of Churchill; searching everywhere for any scraps they can find. The authorities, along with Polar Bears International, have installed new warning sensors and cameras so that they are alerted and can act to deter the bears before they actually reach the town itself. It was hard to remember to stay vigilant if we were walking about in the town, as we could easily have come face to face with a 'furry friend'! It was recommended not to walk anywhere once darkness had fallen.
There is in fact a 'Polar Bear Holding Facility' on the outskirts of the town where persistent bears, who have been captured in large traps, are held until they can be transported far away from the town and then released again. During this time human contact is kept to a minimum. They are only fed salt water and scraps as they would normally, so that they are kept wild and not 'domesticated' in any way. We did visit the Holding Facility. I understand they had two bears 'in residence' so we couldn't go in. But it was good to see this enormous, hangar-like structure from the outside and to also see the huge traps lined up nearby. We saw our first Arctic hare here as well which was a bonus, hopping in and out among the traps!
Having said all that, I did enjoy watching the two bears sparring. One bear who found some musk ox or bison droppings, proceeded to push his nose right into them to get a tasty treat! He was filthy when he finally left, and then looked so funny rubbing his face along the ground in an effort to try to clean himself up!
Was there any part of the trip where you were scared?
No, I wasn't scared at all as we were very well looked after throughout. When doing our town tour, the driver and escort were always standing guard with their eyes and ears peeled, but we saw no bears in the town whatsoever during our time there.
Once we boarded our Tundra Buggy out on the fringes of Churchill, for the next 3 days our feet didn't touch the ground at all!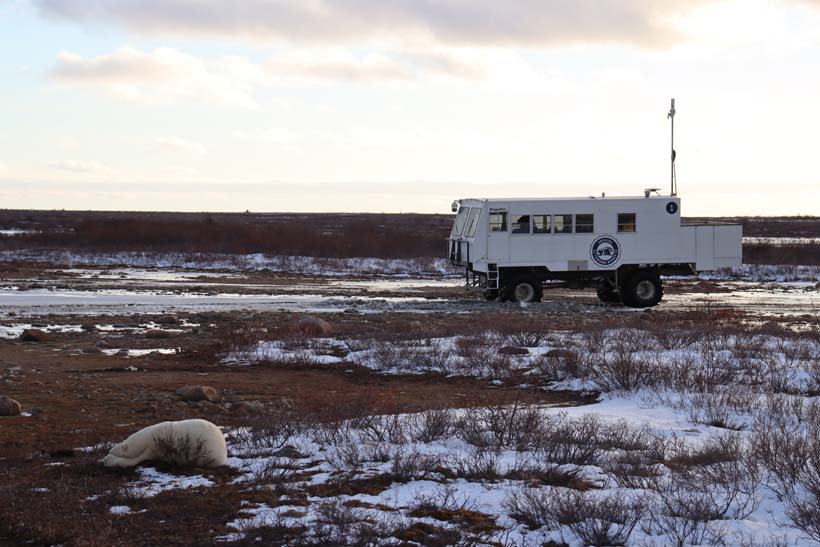 The tundra buggy. Photo credit: Yvonne Haskett
How can people reading this make changes in their lives, to help securethe future of polar bears?
Go out and tell everyone about the polar bears' plight! Urge them to do all they can to contribute towards reducing the temperature of the planet, to help reduce the thaws in the Arctic (and in Antarctica), and in turn, help all the species there survive.
Polar bears are internationally classed as vulnerable at the moment. But closer to home, within the Local and Scientific communities, they feel the situation is more serious and they class the polar bear as endangered.
In addition to climate change, the polar bear's demise can be attributed to increased commercial activities within their environments, conflicts with people, pollution, disease and inadequate habitat protection (e.g. of dens and seasonal resting areas). Plus, the potential for over-harvesting the smaller or declining polar bear populations. There are actually 19 polar bear populations across the Arctic with 60% living within or in areas shared by Canada. The remainder may be found in Alaska, Russia, Greenland and Norway. Svalbard which has the largest concentration of polar bears in the world.
Steps are being taken to combat all of the above threats and Polar Bears International is instrumental in actioning and overseeing this work. In addition, they offer an extensive educational programme for schools the world over, with live talks and feeds, along with numerous teaching aids. All can be accessed by schools, other educational establishments, and by the general public. It's well worth visiting their website (www.polarbearsinternational.org) and getting on board! It's wonderful to hear all about the great work they are doing. Their live cam feeds following the bears during their annual migration in October / November are fascinating!
Needless to say, we ourselves can also do our bit to help, by adhering to at least some of the guidelines we see and hear about in the media. From recycling and litter picking (especially plastics and non-biodegradable packaging), to saving electricity, using renewable energy, and stopping the use of fossil fuels and others which create destructive air pollution. Every little helps. In the meantime, please raise awareness of the threats facing the bears by talking about them, and by encouraging your friends and families to do all they can to save the incredible polar bear!