Wildlife art that tells a story
For me, drawing wildlife is as much about telling a story as it is about depicting an animal on canvas. I like each piece to convey some sort of message. Often it can be as subtle as a feeling, or emotion. Sometimes it's through the action in the piece. Art can be so subjective, and I like that. The feeling which a piece of art conveys for me, might be completely different for someone else. But that's what keeps things interesting. I always love hearing how a drawing makes people feel and about the connection they have to a piece.
Initial concepts
Crafting a wildlife art drawing is quite different from my pet portrait work. I always work from photographic references, sometimes my own and sometimes from professional photographers. But my wildlife drawings are never simply a replica of any one photograph; they're always a combination of several different photos. I usually have an idea in my mind of the feeling I'd like the piece to convey, and then the challenge is on to try and realise that on paper. The process of crafting the right composition for a piece takes me hours upon hours of finding the right photos that will work together. I then draft out numerous combinations of those photos to get close to what I have in mind.
Creating ambience
I like to draw my subjects in their natural environment rather than with a blank background as in a formal portrait. I often think the surroundings can be just as beautiful as the animals themselves so why not include both! The surroundings can add so much colour, ambience and interesting light to a piece and can really change the feel of it. So, deciding on the right setting is a key element to the composition of the overall piece. Getting the right environment is a tricky process; the lighting, perspective and feel all has to work with the photos of the animals I'm drawing.
Gaining Understanding
Perhaps the most important aspect of my wildlife art is deciding how to portray the subject. It's so important to me that I have a good understanding of the animal before drawing them. If you've ever commissioned a pet portrait with me, you'll know how I like to have an in-depth knowledge of your pet before I draw them. The same is true with my wildlife drawings. And so before even planning a piece, let alone drawing it, extensive research goes into understanding my subject's characteristics; how they interact with each other, their behaviour, their natural environment, their struggles, how they play, their social groups and so on. It is my hope that when you look at my art, you feel as though the animal has come to life in the drawing, and that on some level you are able to feel some connection to them, as well as a sense of wonder for the astonishing beauty in our natural world.
The final composition
Once I've put together a mock composition that I'm happy with, I usually sit on it (not literally!) for a few days or even weeks so that I can return to it later with fresh eyes. This is so I can be sure that it really does all work together before I start drawing. It's so easy to become blind to problems with a piece, just through being over familiar with it. A bit of time and space allows you see it as if for the first time. I've had many a 'perfect' composition that ended up in the junk pile after viewing it afresh!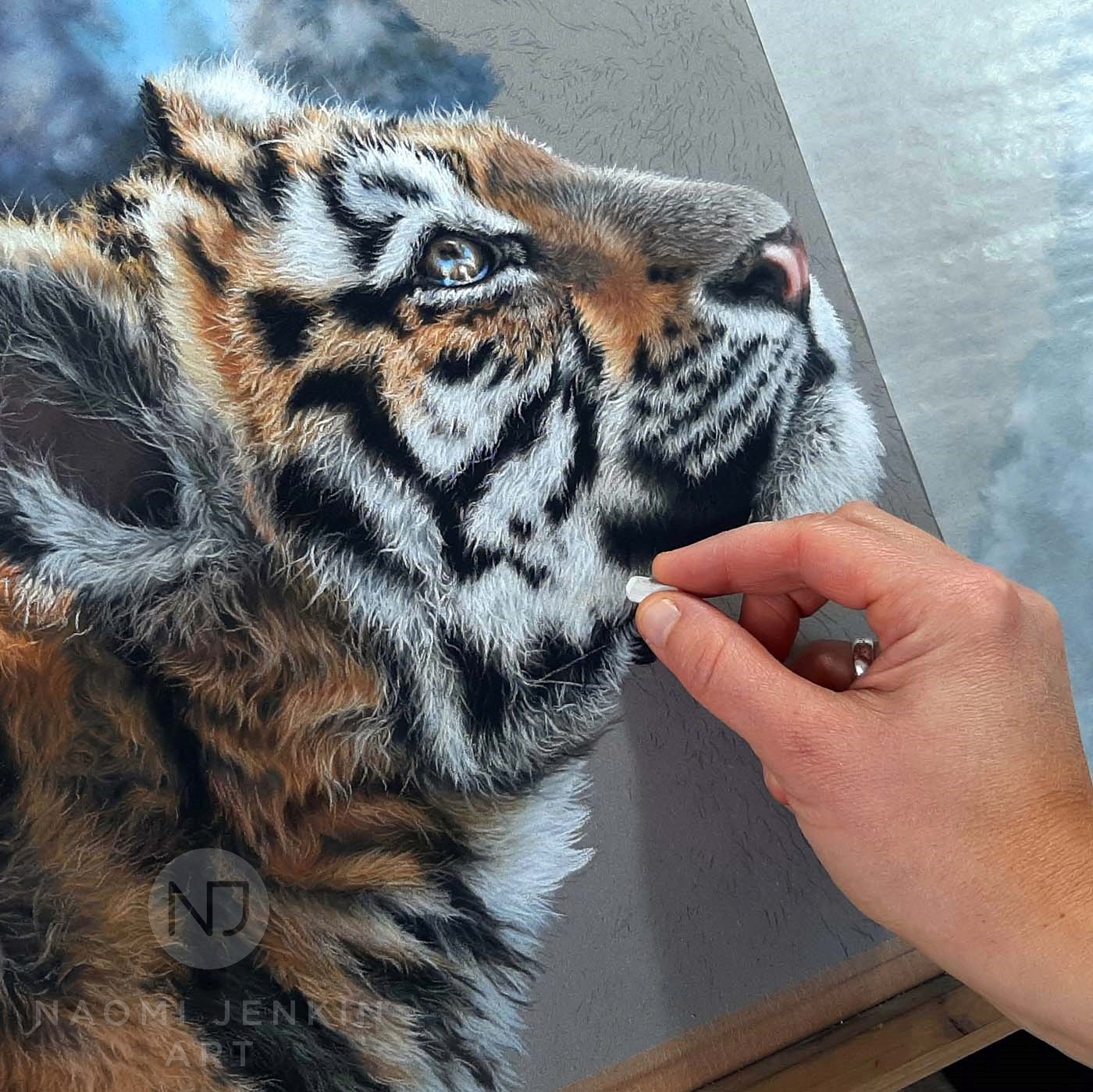 Drawing an amur tiger cub for my piece titled "Tigers of the Taiga"
The drawing
If everything looks good, then the green light is on to start drawing! Oddly, the drawing is actually the easy part. It's everything I've just described which is the most challenging part of the process. If the composition is not right, then the whole piece fails.
The drawings take me hundreds of hours to complete. I usually like to work reasonably big, and I'm a bit of a stickler for details. I often get obsessed with the tiniest little aspects of a portrait! Once a piece is complete, it's so satisfying to sit back and see the finished drawing. The best part though is receiving lovely feedback from happy customers!
Limited edition prints
You can view my full range of wildlife pieces in my print shop. Each piece is available to buy as a fine art print in a range of different sizes.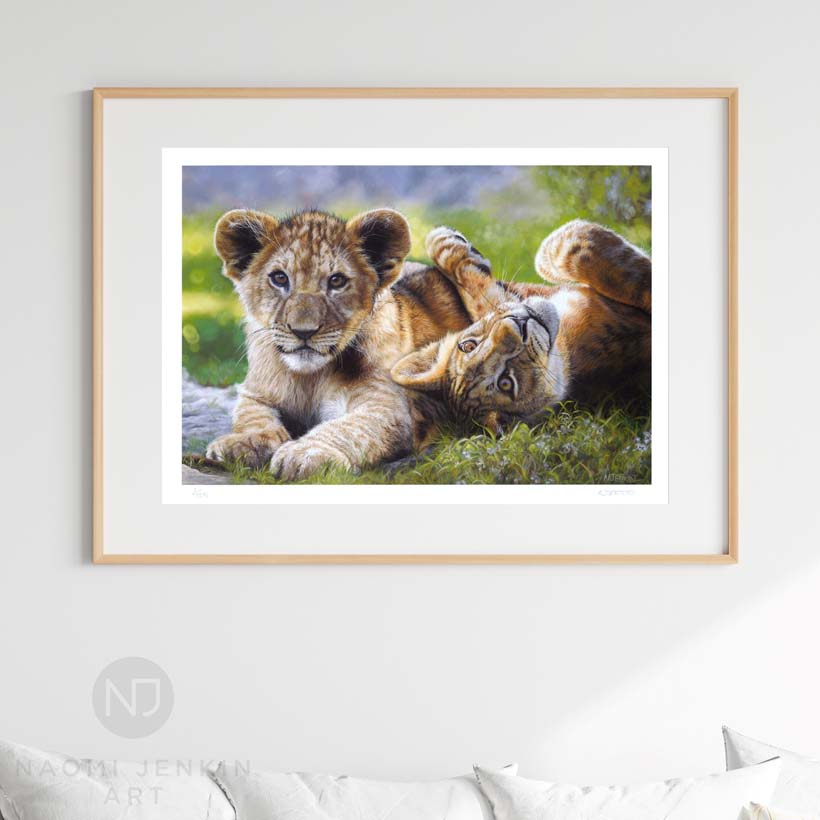 Limited-edition print of lion cubs drawing titled "Lyin' Around".